To listen to the blog post "Hair Closures 101 Absolutely Everything You Need To Know" over reading it just click the play button below.

What are hair closures? This post will answer that exact question on so many levels. If you are ready to dive into all your weaving options but you keep hearing the word "closure" but you do not know what is. Then I am here to help you out.  A closure can make or break your weave. It can determine if your weave will come out looking realistic or if it will come out looking busted.
For Example Realistic Closure Versus Busted Closure
But you must also understand that not all hair closures are created equal. Some are more expensive than others and some closures are better than other closures. This is why I am going to tell you all that you need to know about hair closure and frontal so that you can know how to make the best of your weaving journey. As you read the rest of the post I am going to get into the types of hair closures and the best way to use them.
1. Hair Closures ~ Lace closure VS Silk closure
One of the most popular types of hair closures are lace and silk closures.  With the lace or silk closure, you are able to part your hair and it looks like a real scalp. Silk based hair closures do cost more, but it gives the most realistic looking scalp over the lace. Look at the picture below to see the difference.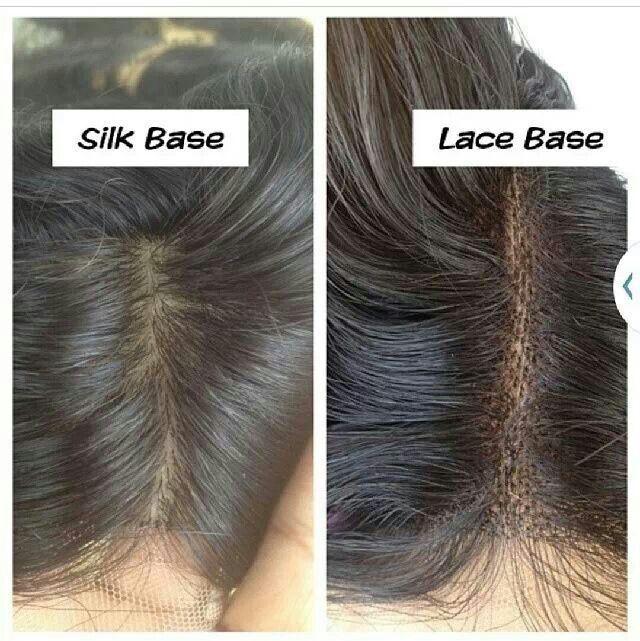 Lace Hair Closures
Even though the hair closure is available in either silk or lace, consumers mostly prefer the lace type because its thinner characteristic creates a more level or even out appearance on your scalp. In other words, it does away with your worry of the line of demarcation or the visible area between the hairpiece and your crown. Once attached, the only maintenance it needs is slight retightening frequently. (source).
Silk Hair Closures
These closures can also help a person achieve a natural look, but often costs more than lace closures. A silk closure contains a silky material as its base, and the hair strands are embedded into this base. Unlike lace closures, people usually do not have to bleach any part of this closure type to achieve a natural look since the knots cannot be seen and the front part closely matches the texture of the person's own skin. (source).
Different types of hair weave closure
Within the silk-based closure and the lace-based closures there are closures that fall into four basic categories.  A free part, middle part, side part, and a three-way part. I am going to outline each of them below.
The middle/side part Hair Closure:
This is where the closure is pre-parted one way, and you can only wear the closure parted in that area. Meaning that the main limitation of this closure is that it cannot be parted anywhere. You can just wear the part where it is pre-parted which is only on the side or on the middle.
The three-way part Hair Closure
This closure is where there are three parts.  Two on each side and one in the middle. The reason for the three-way part is because the part can be worn in three ways. On both sides and in the middle.
A free part Hair Closure
The free part is my favorite because you can part this closure anywhere.  You can create a zig-zag part, a curvy part, and you can part it any way that you can part your regular hair.  Because it is a free part when you part it can look a lot more realistic than the other parts.
If you want to know how to apply a closure then you can check out my video below. The following is a lace-based closure but to apply a silk-based closure it can be applied in the same way. Also, check out my blog post on to see a more detailed step-by-step on how I created this wig. 
Full Frontal Hair Closures
This is where the lace or silk runs from ear to ear in the front.  Normally a closure just focuses on the middle portion of the head.  But a full-frontal covers the entire front.  This allows to pull the hair back into a ponytail or to put a half up and half down look.
They are pricier than the closure that lays in the middle of the head, but it is also more versatile. Check out the video below to see how to apply a full frontal. Of course, having a full frontal closure will give you more styling options than just the smaller closures.
Hair Closures (The 360 Frontal)
A 360 frontal is like a full-frontal that goes all around your head and it gives you a lot more styling options. You can even wear your hair in a higher ponytail if you want to because the closure is made to look natural all-around your head. Check out the video below to see how a 360 closure is installed.
The invisible part Hair Closure 

With the invisible part, you have the potential to make your part look the most realistic.  This is because your real scalp is exposed. There have been some epic failures when it comes to an invisible part.  Because people may apply it too far from their real part.  Making it look unrealistic, far, and wide.  With the invisible part, some already come parted and some you have to cut down the middle before you apply.
You pre-part your hair and then apply the invisible part to each side of your real part with either glue or sewing it in.  You may have to be careful with the color.  If you choose a blonde invisible part and your real hair is black since your real part is exposed you will more than likely see your black roots, which is not a good look. You can check out my tutorial below. This is a fair warning that the struggle was SO SO real for me trying to put in the invisible part. Click here to get the hair featured on the video. 
Duby Hair Closures
This type of hair closure is actually my least favorite of the closures because it does not give you versatility.  You can't part it or anything and it looks really fake.  The only time that I use these closures is when I make a wig with a bang.
Some people will try to use it outside of that, but it is really hard to pull off something realistic with this closure.  A duby closure typically comes with packs of hair with the closure and it is normally the cheapest type of hair closure out there. You can view my tutorial below to see more on how to apply the duby hair closure to get the best results. Click here to buy a duby closure.
The U-Part Hair Closure
This is not a closure per se. But it is a way to finish off your look with a wig or a weave. Keeping an area open where a closure should go, gives you the option of having a U part. The U- part has the potential to look the most realistic because it is your actual hair.  That gives the illusion that it looks like your real hair.
The cons: The cons are that you have to use a weave or wig that is your hair color so your real hair can blend.  You also have to use a weave that is close to your real hair texture for the same reason.  Since I am natural, U-part can be difficult because if I am wearing a straight style I have to flat iron my real hair every day to blend it with the fake hair.  Applying heat to your real hair every day can cause damage and stress on the hair if you are not careful.
Tutorial of my U part Quick Weave
Pros:  The pros is that it is really easy to do and blend.  Using a U-part makes your weave look realistic if done right.
You can watch my video below on how I made a U-Part wig
https://www.youtube.com/watch?v=dsqV1KyqCWo&t=241s
I hope that this post told you everything that you needed to know about hair closures. For all of my fashion and beauty oriented fashionistas then I have something free that you are going to FREAKIN LOVE. YES LOVE. It is my 100% free ebook, the Sophie-sticated Mom Stylish, Chic, & Modern Christian Women's Year-Round Capsule Wardrobe Plan. That's right your forever wardrobe.
No more being the frumpy, bumpy, boring modest wardrobe, just because you are a Christian. Be Godly, frugal, relatively modest, chic, stylish, on a budget and look good doing it. Outfits for all seasons (spring, winter, fall, and summer) and most occasions work, casual, dates, gym, chilling or whatever and you will still be fashionable. Just click here or the picture below.